PADI Open Water Diver Course
Earn The World's Most Recognized Diving Certification
Ready to take the plunge? The PADI Open Water Diver Course is the most popular training option for beginners seeking a diving certification.
Maybe you've tried scuba diving before and loved it. Or, maybe you haven't tried but have heard from others how great it is. Either way, if you are ready to dive into your first certification, the PADI Open Water Diver Course is for you. As a holder of the world's most recognized scuba diving certification, you will be able to dive in any open water environment up to 18 meters depth. The certification is good for life and never expires. The course consists of classroom theory sessions, pool training, and a series of four open water dives. You can complete it in just three days. Small group sizes (maximum four students per instructor) ensure sufficient attention and safety for everyone. During the course, you will experience the rich abundance of beautiful marine life in Krabi. You will dive at Koh Phi Phi and/or the Ao Nang Local Islands.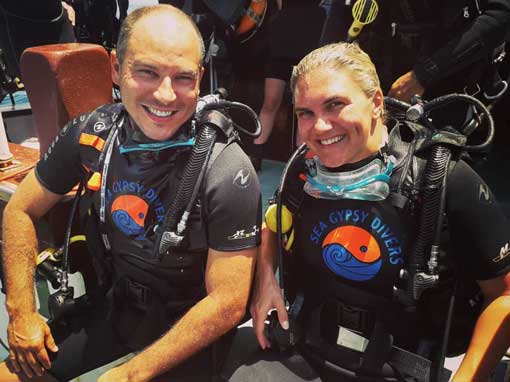 PADI Open Water Diver Course – Key Points
Duration: 3 days
No. of Dives: 4 dives
Max Depth: 18 meters
Student/Instructor Ratio: Max 4:1
Minimum Age: 10 years old
Price: 15,500 THB (plus National Park fee)
Includes: Insurance, all equipment, PADI materials, hotel transfer from Ao Nang area, on-board food service (lunch, fresh fruit, water, electrolytes, soft drinks, coffee, tea)
Sample Schedule – PADI Open Water Diver Course
Note that times are approximate and exact itinerary will vary based on the day's program.
Day 1:
8:00am – Hotel pickup and transfer to pool training facility
8:30am – Theory review and pool training
12:30pm – Lunch
4:00pm – Transfer back to hotel
Day 2:
7:15am – Hotel pickup and transfer to big dive boat
8:00am – Boat departure to Koh Phi Phi
10:30am – Jump for dive 1. Dive time up to 1 hour
11:45am – Lunch on the boat
12:45pm – Jump for dive 2. Dive time up to 1 hour
2:00pm – Begin return trip to Ao Nang
4:30pm – Arrive to Ao Nang and transfer back to hotel
Day 3:
7:15am – Hotel pickup and transfer to big dive boat
8:00am – Boat departure to Koh Phi Phi
10:30am – Jump for dive 1. Dive time up to 1 hour
11:45am – Lunch on the boat
12:45pm – Jump for dive 2. Dive time up to 1 hour
2:00pm – Begin return trip to Ao Nang
4:30pm – Arrive to Ao Nang and transfer back to hotel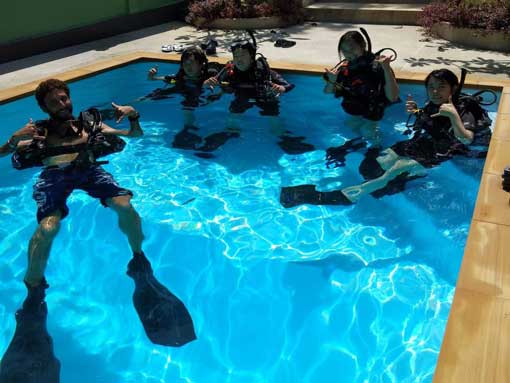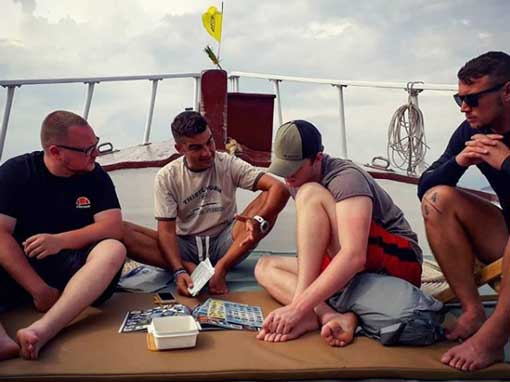 Open Water Diver Course Booking Inquiry
Open Water Diver Course Booking Inquiry