PADI Advanced Open Water Diver Course
Take Your Dive Training to the Next Level
Ready to dive deeper, and improve important skills like buoyancy control and navigation? Become a PADI Advanced Diver and watch your confidence level surge.
If you're already a certified Open Water Diver and want to take your training a step further, the PADI Advanced Course is for you. You will have a total of five dives over two days to practice skills that enhance your confidence and abilities as a diver. Each dive will focus on a different skill. Deep Dive and Navigation Dive are mandatory. We would also highly encourage the Peak Performance Buoyancy Dive to help you perfect the most important skill in diving. Then you can choose from many other options including: Fish Identification Dive, Digital Underwater Imaging Dive, Wreck Dive, Night Dive, Underwater Naturalist Dive, Search & Recovery Dive, Enriched Air Dive, and Drift Dive.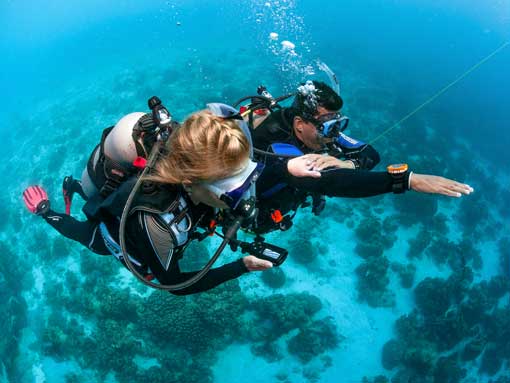 PADI Advanced Course – Key Points
Duration: 2 days
No. of Dives: 5 dives
Max Depth: 30 meters (21 meters for 12-14 year old divers)
Student/Instructor Ratio: Max 4:1
Minimum Age: 12 years old
Prerequisite Cert Level: Open Water Diver
Price: 12,900 THB (plus National Park fee of 800 THB)
Includes: Insurance, all equipment, PADI materials, hotel transfer from Ao Nang area, on-board food service (lunch, fresh fruit, water, electrolytes, soft drinks, coffee, tea)
Sample Schedule – PADI Advanced Course
Note that times are approximate and exact itinerary will vary based on the day's program.
Day 1:
7:15am – Hotel pickup and transfer to big dive boat
8:00am – Boat departure to Koh Phi Phi
10:30am – Jump for dive 1. Dive time up to 1 hour
11:45am – Lunch on the boat
12:45pm – Jump for dive 2. Dive time up to 1 hour
2:00pm – Begin return trip to Ao Nang
4:30pm – Arrive to Ao Nang and transfer back to hotel
Day 2:
7:15am – Hotel pickup and transfer to big dive boat
8:00am – Boat departure to Koh Phi Phi
10:30am – Jump for dive 1. Dive time up to 1 hour
12:30pm – Jump for dive 2. Dive time up to 1 hour
1:45pm – Lunch on the boat
2:45pm – Jump for dive 3. Dive time up to 1 hour
3:45pm – Begin return trip to Ao Nang
6:00pm – Arrive to Ao Nang and transfer back to hotel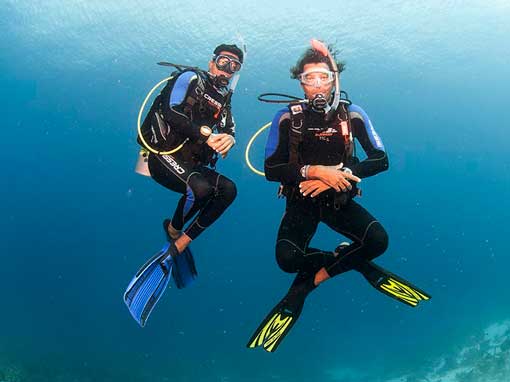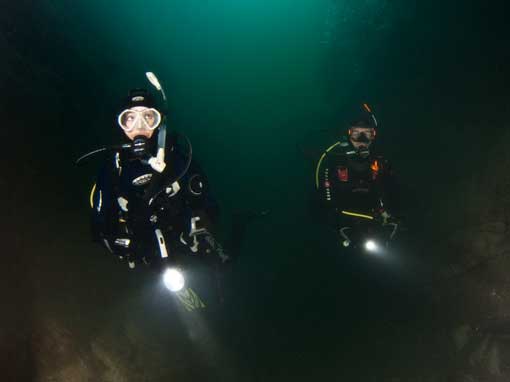 Advanced Diver Course Booking Inquiry
Advanced Diver Course Booking Inquiry