Start your Journey as a Dive Pro
 As a PADI Divemaster, you will be professionally qualified to guide certified divers underwater. Training for your Divemaster qualification is the first step of your professional diving career.
As a PADI professional, you will be a part of the largest, most popular scuba dive training organization in the world. So if you are considering a career in scuba diving, becoming a PADI Divemaster is the best place to start. As a Divemaster, your main responsibility will be guiding certified divers on fun diving trips. You will also be qualified to conduct the PADI ReActivate program to refresh skills for certified divers who have had an extended period out of the water. In addition, you can assist PADI Instructors teaching courses to new divers or continuing education courses to certified divers. Your job will allow you to travel to some of the most beautiful places in the world, where you can find constant connection with other divers in the wide-ranging dive community. Start the journey now and see where you will end up!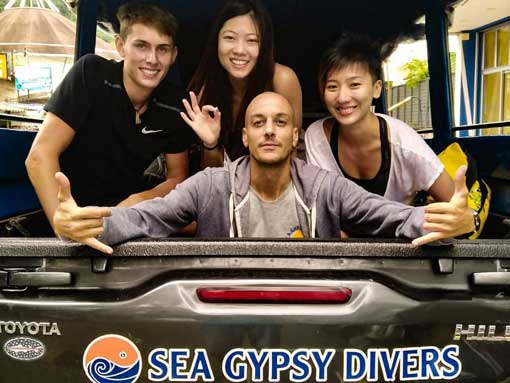 PADI Divemaster Course – Key Points
Duration: Minimum 3 weeks (recommended at least 6 weeks)
Minimum Age: 18 years old
Prerequisites:

Cert Level: Rescue Diver
CPR & First Aid Training: completed within 24 months
No. of Dives: minimum 40 logged dives to begin training (upon completion, minimum 60 logged dives)
Medical Check: completed by doctor within 12 months

Price: From 30,000 THB (not including PADI Divemaster Crew Pak and PADI Application fee)
Course Requirements – PADI Divemaster Course
One of our Sea Gypsy Divers Instructors will be your professional mentor, helping to guide you in completing all the course requirements. Your mentor relationship is an essential part of your course and will ensure that you get effective training. As a Divemaster Candidate, you are a part of the Sea Gypsy team. This means that whenever possible, we will give you responsibilities to help prepare yourself as a professional Divemaster. Upon completion of the training, you will not just be a Divemaster in name, but truly be ready to work as a competent professional.
Summary of Divemaster Training Course Requirements:
Complete theory requirements including Knowledge Reviews and the Final Exam
Complete various waterskills exercises to show proficiency in both swimming and diving
Perform a Rescue Assessment to reinforce skills from the PADI Rescue Diver Course
Participate in skills workshops and assessments to ensure competency in demonstrating and performing diving skills
Complete practical assessments that will simulate real Divemaster responsibilities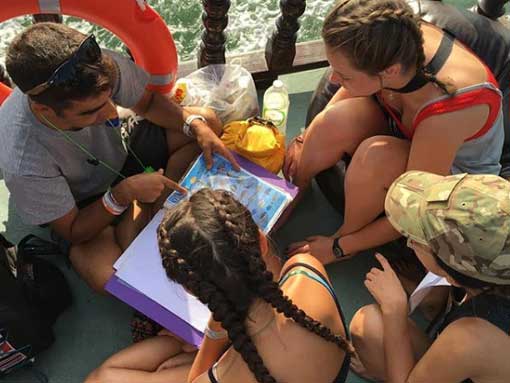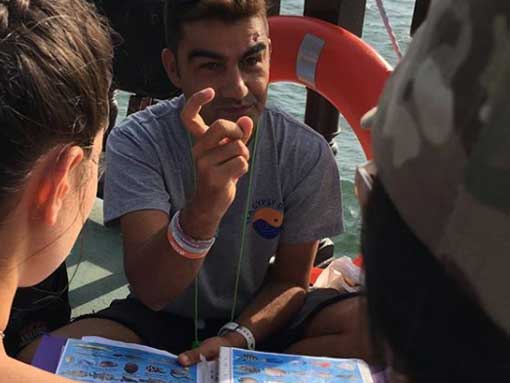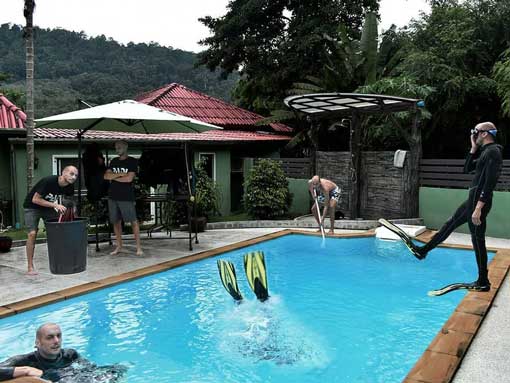 Former Divemaster trainee Andrea creatively shows that during your Divemaster Course, you will do a little bit of everything! Andrea went on to become part of the Sea Gypsy Divers team and is now a PADI Instructor.
As part of the Divemaster Course, you must have the latest PADI Divemaster Crew Pak. This includes every resource you will need to complete the theory sections of your course and guide you regarding professional standards. We will order you the PADI Divemaster Crew Pak before you arrive. The latest price is roughly 10,000 THB, but it can change year to year.
As a dive professional, it will be essential to own your own set of diving equipment. For the purposes of your Divemaster Training, you may borrow our shop gear free of charge. But you must, at a minimum, own the following equipment:
Dive computer
Surface Marker Buoy (SMB)
Underwater compass
You can purchase those items or any other pieces of equipment through our local suppliers, with a discount from the normal retail price.
Divemaster Course Booking Inquiry
Divemaster Course Booking Inquiry