We are a small, family-run dive shop with a mission to share our passion for the underwater world.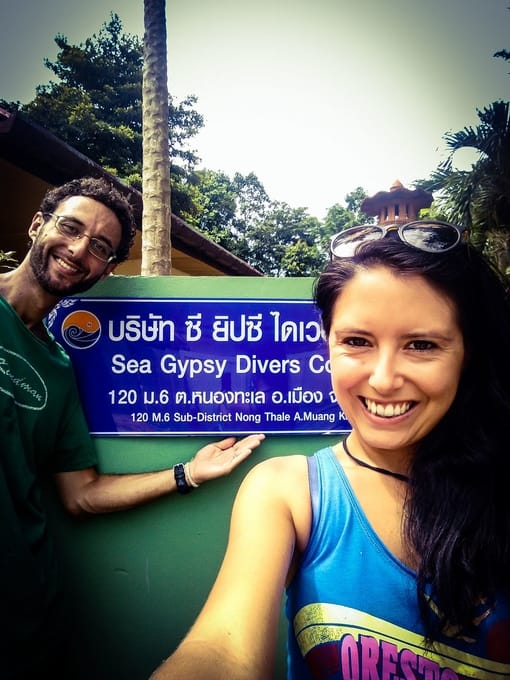 Meggy and Joel, the co-founders of Sea Gypsy Divers
Sea Gypsy Divers is our vision that we brought to life in 2017. We are Meggy and Joel, a husband and wife couple whose life passion is scuba diving. We met at Koh Tao, another of Thailand's famous scuba destinations. A few years and one underwater proposal later, we decided to move to Krabi to open up our dream dive shop.
Since we opened, our family has grown (both our dive family and our actual family!) We have a team of top-notch professionals who share our philosophy about how to teach diving using patience. We have had the privilege to offer diving to thousands of guests, people from all over the world and with all levels of diving experience. Many have left as our friends.
We recognize that diving allows us the opportunity to connect – not only with nature, but also with other divers. Divers share the same passion for the ocean, and have experienced the unique feeling of being immersed in a world not our own. It brings us immense joy to welcome more divers to our family, and especially to teach diving to those who have never experienced it before.
Teaching with patience is particularly important for us, and we have sought out a staff of dive professionals who feel the same way. We are passionate about encouraging all people to try diving, even if you are scared initially or need some extra time and attention to complete certain training skills. Please feel free to read more about our Patient Approach Philosophy.
As divers ourselves, we strive to give our guests the experience that we would hope for when picking a dive shop. We have had the best experiences diving at small shops with a highly personal atmosphere. That's why we want the same for our guests. We are a small shop, and would not want it any other way.
Being small means we do not have to ever sacrifice quality. We are personally involved with every guest that passes through our doors, from the time you first contact us to the time we drop you off at the end of the day. We work hard to maintain this level of personal service, to make sure every guest's experience with us meets and exceeds expectations.
More important than everything else is ensuring your safety whenever you come diving with us. That starts with our incredible team of experienced staff. Each one is a professionally certified Instructor or Divemaster, operating under the strict standards set out by PADI. We also maintain our equipment in top condition. We have kept a 100% safety record since the day we opened. Nothing is more important to us than the safety of all our divers.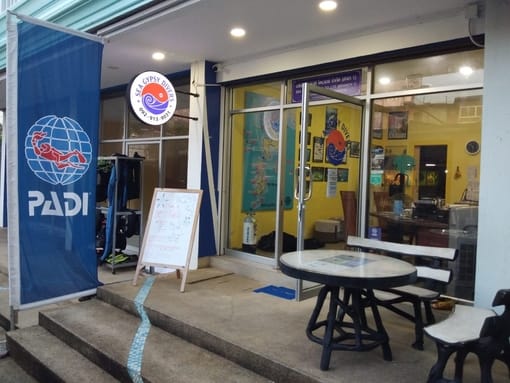 In various parts of Krabi and throughout Southern Thailand, tribes of people called Moken and Urak Lawoi make their home. Collectively, they are commonly known as Sea Gypsies. They are a semi-nomadic people who spend much of their lives on the sea. In fact, studies have proven that Sea Gypsy children can see underwater twice as well as the average person, due to time spent hunting for fish from a young age. The Sea Gypsies have been living from the ocean in a sustainable way for hundreds of years. They are so attuned to the sea that they recognized the warning signs of the devastating 2004 tsunami, and saved many lives as a result.
Unfortunately, the Sea Gypsies are also finding their way of life increasingly threatened by development in many areas they live. They are frequently the subjects of land disputes, and face constant uncertainty with regard to their legal status. Although they have inhabited their ancestral land for generations, they are often unable to legally register their ownership. They are left vulnerable and without many resources at their disposal.
Our name is an homage to a people whose way of life, we hope, will be increasingly recognized and protected in years to come.